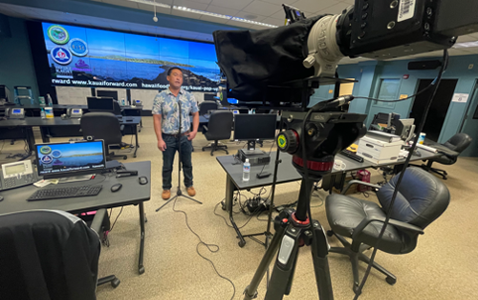 Mayor Kawakami's strong leadership in the Covid-19 response was early, thorough, and based on the best available science. It is a tribute to his leadership that many Covid-19 policies launched on Kauaʻi ended up being adopted across the state. His has been a voice of authority, of compassion, of expertise and of guidance.
Early in 2020, Derek was keeping our community informed with daily video briefings, available to everyone online. He reported on current conditions. He recommended best practices for avoiding infection. He brought onscreen the best and most knowledgeable individuals in our community to address masking, avoiding gatherings, hand washing and sanitizing. In a self-deprecating way, he and his family even launched a video series that recommended ways for families to entertain themselves during the nights at home.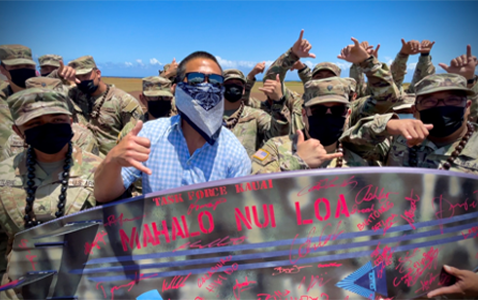 As the virus threat grew, the mayor informed people where to get medical help, where to get food, and where to apply for financial assistance. He informed businesses and residents about resources available to help them survive the disruptions. He worked with the Department of Education on helping parents with schooling issues.
When the County received federal aid, the Mayor emphasized two things; immediately getting money to the people and ensuring all funds remain on Kauaʻi and no funds were returned. He prioritized direct funding for food, shelter, and health and safety needs including mental health and assisting businesses to survive. He increased the funding by matching federal dollars with private grants for initiatives like the Mayor's Rise to Work Program that created job opportunities for 280 residents with 100 employers providing health benefits and the prospect of learning new skills and gaining professional connections.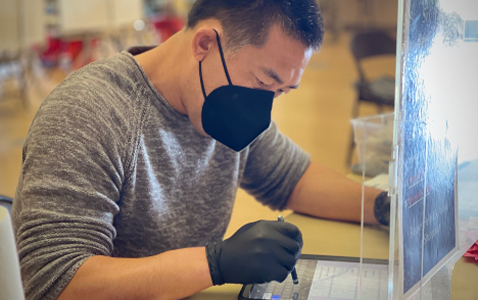 Under his leadership, the Līhuʻe Airport Covid screening process was the most thorough in the state. He launched an early curfew to address risky night gatherings. His Kauaʻi Economic Recovery Strategy Teams sought ways to invigorate the economy. Kauaʻi's Enhanced Movement Quarantine or "Resort Bubble" program allowed visitors to begin to return to our island and ensured jobs for the hospitality industry and related businesses.
LOW CASE COUNTS THROUGHOUT 2020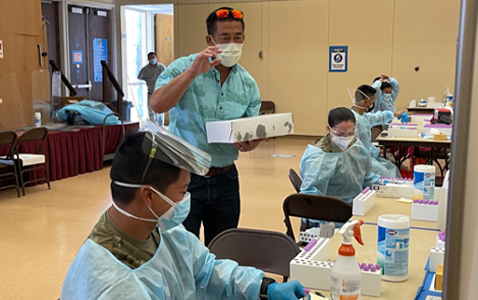 That leadership resulted in Kauaʻi having the lowest case counts in the state, and among the lowest in the country, throughout the first year of the pandemic. His steady and balanced approach enabled Kauaʻi County to be the first to allow outdoor sports competitions and practices while focusing on supporting the economy and avoiding multiple "whiplash" effects on businesses of repeated openingings and closings.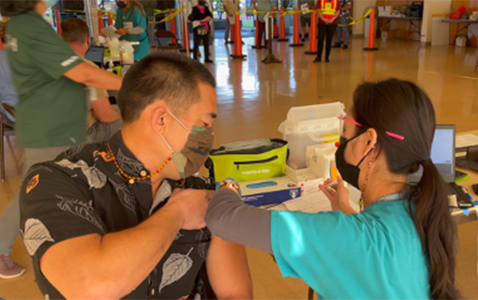 Mayor Kawakami continues his briefings weekly, now focused on vaccines, adjusting protocols to further reopen the economy while minimizing risk, and providing our residents with the best information in a landscape that has constantly changing news on variants, vaccines, medical therapies, travel protocols, and so much more. He has maintained and increased the programs created to help residents with finances and jobs. In 2021, the Rise to Work program was relaunched with $4.2 million in funding from the Chan Zuckerberg Kauaʻi Community Fund. These funds supported 364 employees and 143 employers including 42 nonprofit agencies.
We don't know where this goes from here, but Mayor Kawakami has shown that the innate self-reliance of our community, bolstered by an informed and responsive local government, can help us weather any storm.
We stay true to our driving vision: "Honoring Our Past, Building Our Future," and remain focused on our core RISE initiative goals: Responsive Service; Integrity; Solidarity; and Excellence.
CONTACT THE MAYOR & HIS CAMPAIGN TEAM